Mastopexy (Breast Lift)
---

View patients before and after photos


Breast lifting surgery (Mastopexy) is a surgical procedure to elevate the breasts and nipples, to give the breasts a more youthful appearance. The size of the areolas may also be reduced. You may be a candidate for a mastopexy if you have one or more of the following:
Breasts that are pendulous and droopy


Breasts that lack substance or firmness


Nipples and areolas that point downwards, particularly if they are positioned below the level of the fold under the breast


Sagging breasts result from a number of factors including: heredity, gravity, pregnancy, breast feeding, and weight gain or loss. Pregnancy and breast feeding play a major role in determining breast shape. You will therefore likely want todelay this surgery until you have had all of your children.

Over time a woman's breasts begin to sag and the areolas become larger.

A mastopexy operation requires about three hours. It can be done under intravenous sedation (where you are very relaxed and sedated and feel no pain), or under general anaesthetic (where you are completely asleep). It is done as an out patient, where you are accompanied home on the same day. The nipples and milk ducts are generally not affected by this surgery, so that this procedure will not alter your ability to breast feed.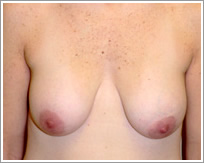 This patient has ptosis (low nipple position) and is a good candidate for a mastopexy to lift her breasts.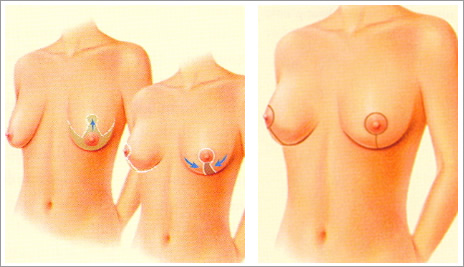 Incisions follow the breast's natural contour. Skin in the shaded area is removed and the nipple and areola are shifted to a higher position.

Skin that was above the areola is brought down and together to reshape the breast.

After surgery, the breasts are higher and firmer. The scars run around the areola, below it, and across the crease under the breast.

Sutures are removed in stages between 1-week and 12-days after your surgery. You should be able to return to office work 1-week after your surgery. You will need to wear your bra for a full 6-weeks, but you can usually take it off at night 3-weeks after your surgery. Six weeks after your surgery, you can return to full activities, including regular exercising.

Incision lines after this surgery are permanent, but they are usually well camouflaged by the natural contours of the breasts. They may require a full 1 or 2 years until they reach their full maturation point. Your new more youthful and uplifted breast appearance should bring you long-lasting satisfaction.

There is considerable information available on breast lifting surgery. Much of this will be covered with you during your initial office consultation.

The total fee for a mastopexy is $6900 + HST.