Face Lift
---

View patients before and after photos


A facelift is usually done under intravenous sedation ("twilight sedation") where your are very sedated and relaxed. The procedure usually takes about 4-5 hours.

These changes develop gradually, but for many people, there comes a day when they look in the mirror and decide that the face they see doesn't reflect the way they feel. A facelift is particularly helpful for lifting and tightening the lower face and neck areas.

A facelift is technically known as a rhytidectomy. It cannot stop the aging process. However, what it can do is "turn the clock back", improving the most visible signs of aging by removing excess fat, tightening underlying muscles, and re-draping the skin of the face and neck areas. As a result, your face will appear firmer and fresher. The goal of a facelift is to obtain a very natural, well-rested look. A facelift should never be tight or overdone. Many patients find that after a facelift, they tend to look as good as they feel.

Facelifts are most commonly performed on patients in the 40-65 age group, when the skin still has good elasticity. Patients should not be overweight and should be in good medical health. The skin should not have excessive sun damage. Smoking can adversely affect healing. Smokers need to quit smoking for two weeks before and two weeks after this surgery. Otherwise, wound healing can be compromised.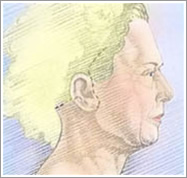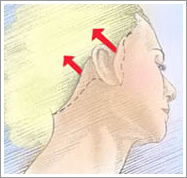 Surgical Technique
This procedure can be done under intravenous sedation ("twilight sedation"), where you are very relaxed and sedated, or under general anesthetic, where you are sound asleep. We prefer to use "twilight sedation", because there is much less bleeding and much less nausea after the procedure. With twilight sedation, you will be very sedated and relaxed, like being in a dream world. The procedure usually takes 4-5 hours.


Facelifts are very individualized. The technique depends on your facial features and your desired results.


Incisions begin inside the hairline in the temple, extend around the front of the ear and back into the hairline in the neck. There may also be a small incision hidden under the chin, so that fat can be suctioned from this area and from the neck.


Operating through these incisions, the facial skin is freed up from the underlying tissues. The deeper tissues (SMAS) are repositioned to provide a more youthful contour. The skin is then pulled up and back and the excess is trimmed and removed The incisions are then sutured.


Most of the incision lines are hidden within the hair and in the normal skin creases.


After surgery, discomfort is usually minimal, and is easily controlled by Tylenol #3.


Drains are left in place for 1-2 days. If you are from out of town, you may want to stay at the Clarion Hotel, across the street from our clinic.


There is an enormous amount of information available on facelift surgery. Much of this information will be explained to you, during your initial consultation in our office. In addition, you will be shown photos of other patients whose findings are similar to yours.


During the first week, you will need extra rest. Keeping your head elevated will help to decrease swelling and bruising faster.


You may shower and wash your hair on the third day after surgery (not counting the day of surgery).


Sutures are removed in our office one week and two weeks after surgery.


You will need to take life very easy for two weeks after surgery, in order to avoid excess swelling and to allow good healing to occur.


You can usually return to work 2-3 weeks after surgery. You can return to full activities, including vigorous exercising, 4 weeks after surgery.


You should avoid sunshine for 6 weeks after surgery.


Some numbness in the cheeks will persist for many months.


After the surgery, you'll present a fresh and more youthful appearance to the world. People will likely comment that "you look rested, like you've been on a holiday".

The total cost of a Facelift is $9,900 + HST. The $100 consultation fee is deducted from the surgical fee.