Breast Augmentation
---

View patients before and after photos


Breast augmentation is a surgical procedure to enhance the size and shape of a woman's breasts. This operation has become very popular. In fact, it is the most common cosmetic surgery operation in North America.

Last year, over 400,000 women in North America underwent breast augmentation. This number has doubled in the past 5 years.

Dr. Peters has been in practice for over 20 years. He has performed breast augmentation surgery on over 4,000 women.

In addition, during the past 10 years, he has been the coordinator of a huge, 3,000 patient, international, breast implant research study, involving the reaction of a woman's body to silicone gel breast implants. He has been awarded over $5 million in research grants. He has published over 160 papers and book chapters. He has presented papers at over 300 national and international meetings.

For the past 10 years, Dr. Peters has been an advisor to the Food and Drug Administration (FDA), the National Academy of Sciences, the National Cancer Institute, the Institute of Medicine Committee on the "Safety of Breast Implants", and the FDA Public Health Project in Washington, D.C. He is also a member of Health Canada's "Expert Panel on Breast Implants", and Health Canada's "Scientific Advisory Board". He has been a consultant and expert witness in over 35 cases of breast augmentation, throughout Canada and the United States. He has also been a consultant to six major corporations in the United States, with respect to breast implants.

Most women requesting this operation feel that, for personal reasons, their breasts are too small. They choose breast augmentation to extend their fashion choices and to improve their self-image. Some patients have always been concerned about their smaller breast size. Others want to "restore" a reduction in breast volume that has resulted following pregnancy and breast-feeding (involution). By inserting breast implants, plastic surgeons are able to increase a woman's bust by one or more cup sizes. The increase in fullness and projection of the breasts improves the balance in a woman's figure and can enhance her self-image and self-confidence.


Submuscular versus Subglandular

Breast augmentation surgery takes about two hours. An incision is first made. A pocket is then carefully created. The implant is inserted. The pocket is then modified to accommodate the implant. The incision is then closed with sutures. The pocket for the implants can be placed either:
Submuscular: under the pectoralis muscle (please see diagram), or


Subglandular: on top of the muscle, behind the breast tissue.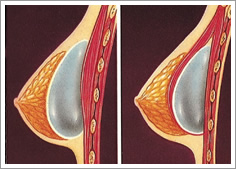 If the nipples are situated above the level of the fold under the breast, and if there is only a minimum amount of breast tissue, then most patients favor placement of the implant under the pectoralis muscle. This tends to give a softer result over the long term.

However, if the nipples have become lower over time (from pregnancy and breast-feeding), and now rest at or below the level of the breast fold, then there is an advantage to placing the implant on top of the muscle (subglandular).


The subglandular placement position lifts low-lying nipples more effectively than the submuscular position.


Cohesive Gel versus Saline Implants

Today, almost all of women requesting breast augmentation choose cohesive gel implants. Breast implants were originally introduced in 1963. From 1963 until 1992, approximately two million women received breast implants. About 95% of these implants were silicone gel filled. In early 1992, there was considerable controversy about a possible relationship between gel breast implants and certain medical conditions. However, 18 large-scale studies have been conducted over the past decade. They have proven that silicone gel breast implants are not related to any medical condition or disease, even if they should leak. Therefore, in October 2006, Health Canada fully approved the use of cohesive-gel breast implants. They can now be used in any woman who requests them. The main advantage of cohesive gel implants is the prevention of ripples and folds, which can result from saline implants, when there is only a small amount of breast tissue.

There are two main types of cohesive gel – soft cohesive gel and firm cohesive gel. Both of these implants are composed of a gel that is much thicker than earlier gel implants. The main advantage of a cohesive gel implant is that if it should ever leak, then the nature of the gel causes it to "stick together". This restricts any migration. In addition, the cohesive nature of the gel gives the breast a better shape and texture. Many patients prefer to use the soft cohesive gel, because it feels much softer than the firm cohesive gel. Dr. Peters currently favors Natrelle Inspira Allergen implants and Mentor Elite gel implants.

If a woman's chest circumference is narrow, then she may benefit from high profile cohesive gel implants. These have a narrower base and a greater projection than regular implants. The narrow base allows them to sit better if a woman has a narrow chest. Many of our patients choose high-profile implants.

If a woman is particularly slim with a very narrow chest (eg 32 A bra size), then she may well benefit from using Ultra High Profile implants (UHP). These implants have a very narrow base, which allows them to sit better on a smaller chest area (please see "patient p" in the "before and after photos").

Under certain conditions, some surgeons may use anatomic or teardrop shaped implants. These probably have little advantage in most women undergoing breast augmentation. In fact, they can have disadvantages. They can shift or rotate, resulting in an altered breast appearance. Similarly, coating the implant with a layer of "texturing" probably has few advantages in patients. In some, it can have disadvantages, by causing fluid to form around the implant. In others, it can result in wrinkling and palpable edges.


Smooth versus Textured Implants

Textured implants were initially developed with the hope of reducing capsular contracture, or firmness, in augmented breasts. However, this role has never been proven. About a dozen studies have compared smooth-surface implants to textured implants. Half of these studies have shown no difference between the two types. The other half have shown conflicting results. The statistical validity of all of these studies has been widely challenged. In addition, most of the studies have been done over only 1-year, which is a short time frame.

Most plastic surgeons continue to use smooth-surface implants, because of the comparable capsular contracture rates between the two types of implants. They also want to avoid the contour irregularities (wrinkling and palpable edges) that are more common with textured implants. It should be reemphasized that the rate of capsular contracture with all current cohesive gel implants is much lower than with earlier forms of implants.


Incisions

There are three possible incisions for breast augmentation: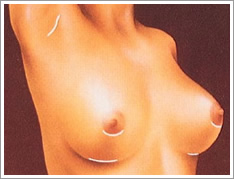 Inframammary – In the fold under the breast


Periareolar – Around the lower edge of the areola


Transaxillary – Under the arm

For patients using cohesive gel implants, we favor the inframammary incision. It usually heals well, resulting in a good quality scar.

If the transaxillary (TA) incision is used, then saline implants must be used. They are introduced deflated through the small incision, and then inflated after they are in place. By contrast, the small incision will not permit the insertion of a cohesive gel implant, because it is pre-filled prior to insertion. It would simply not fit through the small incision.

The advantage of the TA incision is that the scar is hidden under the arm. However, there are significant disadvantages with this incision.
If there is a less than 2 cm of breast tissue, then ripples and folds can develop on the surface of the breast. These are more noticeable on the outer part of the breast, where there is less breast tissue. They are particularly noticeable when a patient leans forward. Because of this, many patients ultimately replace their saline implants with cohesive gel implants.


It is difficult to obtain perfect symmetry, because the procedure is done "blindly", through a small incision. By contrast, the inframammary incision allows much better visualization of the breast pocket, resulting in much better symmetry.


Some surgeons have reported insertions of cohesive gel implants through a TA incision. However, to do so, the implants must be "jammed" through the small incision. This has been shown to damage and weaken the implant shell.
Dr. Peters, has performed over 500 TA breast augmentations. However, because of these limitations, and because of the advantages of gel implants he no longer uses the TA incision.


Drains

Regardless of the type of implant, or the type of incision, we always insert a drain into each breast at the end of the operation. We feel that any bleeding into the breast pocket can result in firmness (capsular contracture) and distortion of the breasts over time. Studies have shown that most patients will develop at least 100 cc of bleeding in the pockets after breast augmentation. The drains will remove this bleeding, eliminating this potential problem. These drains are ususally left in place for 3-4 days. They are then removed in our office.


Anaesthesia

Breast implants can be inserted under General Anaesthesia (where you are totally asleep) or under Twilight Sedation (IV Sedation) (where you are very relaxed and sedated). We prefer to use Twilight Sedation, if possible, because there is less nausea and less bleeding. You can go home on the day of your surgery. Because of your sedation, you will need to have someone accompany you home. Patients from out of town (Northern Ontario, across Canada, the Bahamas, Dubai, and elsewhere) may elect to stay at one of many hotels located near our clinic.


Post-Operative Care

After breast augmentation surgery, you would be seen back in our facility a few days after your surgery to remove your drains. At that time, your dressing would be removed, and you would then need to wear a sports bra for 2-4 weeks, depending on how high your implants are sitting. If your implants are particularly high, then we may ask you to stop wearing your bra after 1-week. This will allow your implants to come down faster. This is more common with submuscular implants. Subsequently, you would not need to wear a bra at all, unless you prefer to do so.

During the first week after breast augmentation surgery, you will need to take life very easy, and to avoid heavy lifting and excessive movements of your arms. Activities can be gradually increased after the first week, within your own comfort level. You will be able to shower and wash over your breasts, three days after your drains are removed. From then on, you may shower daily. Your sutures would be removed 1-week after your surgery. You should be able to return to work one week after surgery. You will need to avoid aerobics and other strenuous exercises for three weeks after your surgery.

For the first few weeks after surgery, you will likely feel that your breasts are "too big" and "too high" because of the swelling from the surgery. After a few weeks, this swelling settles. You will have also become more accustomed to your new breast size at that time. Subsequently, you would be seen in our office 3 weeks, 3 months, and 12 months after surgery.

Some women report that their nipples become under-sensitive following breast augmentation surgery. This is most common during the first few weeks after surgery. This is followed by a period of over-sensitivity, which lasts 3-8 weeks. These findings are usually temporary. They are due to stretching the tissues during surgery.

There is no relationship between breast implants and the development of any medical disease or breast cancer. Similarly, breast implants do not interfere with pregnancy or breast-feeding. Breast implants can interfere with regular mammography of breasts. However, this problem is minimized if implants are not overly large, and if special mammography techniques are used. Today, radiology centres are well aware of these techniques.

There is a large amount of information available on breast augmentation surgery. Much of this information will be explained to you during your consultation appointment. You will also be shown before and after photos of other women, whose breasts are similar to yours.

For most women undergoing breast augmentation, the results are very satisfying. In fact, among all cosmetic surgery operations that we perform, this particular operation has the highest level of patient satisfaction.


Costs

The total cost of a bilateral breast augmentation with Cohesive Gel Implants is $7800 + HST. The initial $100 consultation fee is deducted from this fee.